On August, 11, 2011, University Dental Associates created the University Dental Associates Scholarship Fund, an endowment supporting the DDS program at the University of North Carolina DDS program, as well as post-graduate DDS students in the following departments: Endodontics, Periodontics, General Practice Residency (GPR), Orthodontics, Oral and Maxillofacial Surgery, Pediatrics, and Prosthodontics. Scholarship recipients shall display the attributes – teamwork, clinical excellence, and leadership – of a professional capable of entering a dental group practice.
"Dental Education is increasingly expensive and often leaves students burdened with post-graduation debt. More and more, students need financial help in the form of scholarships to afford their education and achieve their career goals in the dental profession. Scholarships, like the one provided by American Dental Partners Foundation, invest not only in the student receiving the award but also in the future to improve the oral health and quality of life of the people in North Carolina and beyond. Scholarship support is critical as we educate the next generation of aspiring dental professionals."
Jane Weintraub, DMD, MSPH
Dean School of Dentistry
University of North Carolina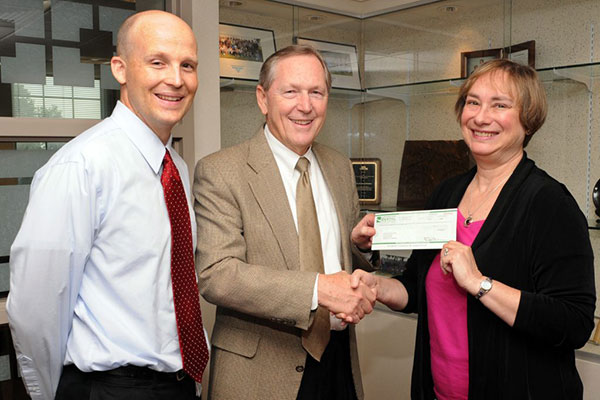 Pictured: UDA Scholarship check presentation to Dean Jane Weintraub, DDS in her office at the UNC School of Dentistry, alongside Raymond Garrison, D.D.S., P.A., and Dr. Scott Tucker, UNC Orthodontic Alum.