Endowments
The Foundation is always striving to fulfill its mission of existing for the betterment of oral health care as a component of overall health: education, disease prevention, and community patient care. Endowments and scholarships are awarded to general, specialty, dental hygiene, and dental assistant students. We are proud to partner with over 40 schools.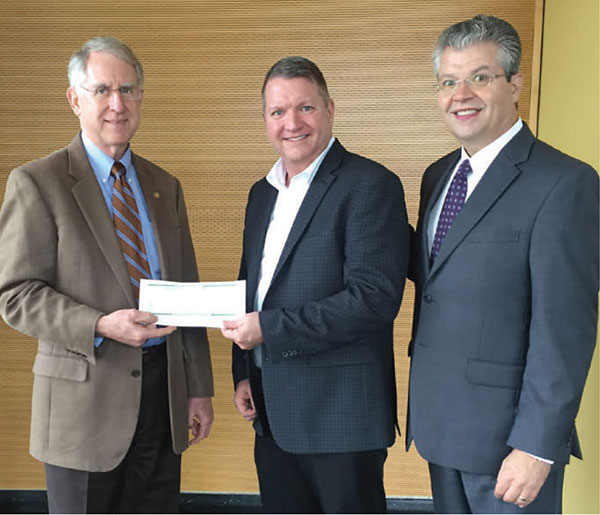 East Carolina University
Dr. Brian Blough of University Dental Associates presenting a check to East Carolina University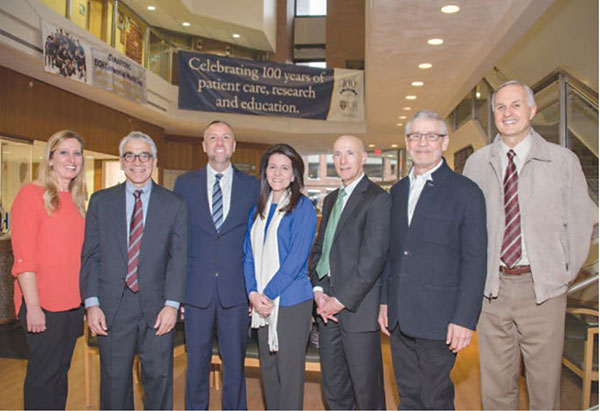 Eastman Institute for Oral Health
Western New York Dental Group presenting a check to Eastman Institute for Oral Health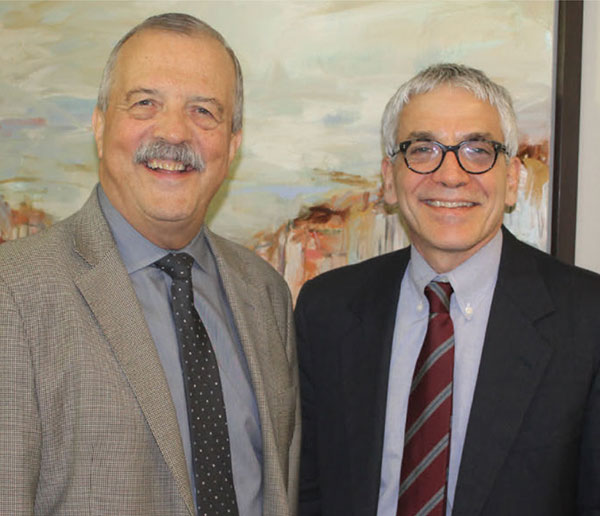 Tufts University
Dr. Jesley Ruff, on behalf of the American Dental Partners Foundation, presenting a check to Tufts University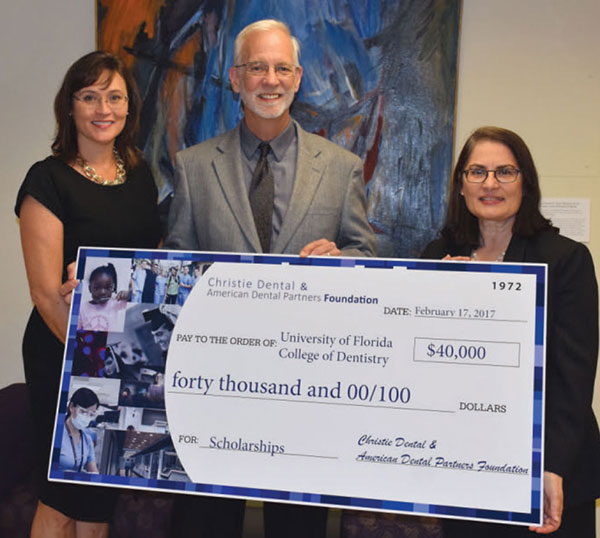 University of Florida
Dr. Timothy Morris of Christie Dental presenting a check to the University of Florida
Community Outreach Program

This past August, Metro Dentalcare raised more than $11,000 for cancer research at the Chainbreaker Bike Ride. The fundraiser is supported by the University of Minnesota Masonic Cancer Center and Dental School. Metro Dentalcare raised the funds through practice and Resource Group fundraisers, personal donations, and a contribution from the American Dental Partners Foundation.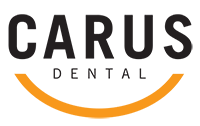 In August, Hurricane Harvey wrought a path of destruction on the State of Texas. Houston residents in particular, were left homeless, others sought assistance at shelters. Many were left without options for health care. The choice for some was no choice at all-a visit to the emergency room or no care. The barriers to customary support were mostly insurmountable. Immediately, Carus Dental and American Dental Partners team members stood ready to help. Partnering with the American Dental Partners Foundation $3,500 were raised and the San Jose' Clinic was chosen to support local care and needed assistance. Furnishing affordable health services, including medical, dental, and pharmacy services to the uninsured since 1922, the San José Clinic is a safety clinic-a beacon of hope to the community. Their mission of dignity, education and quality resonates with ours.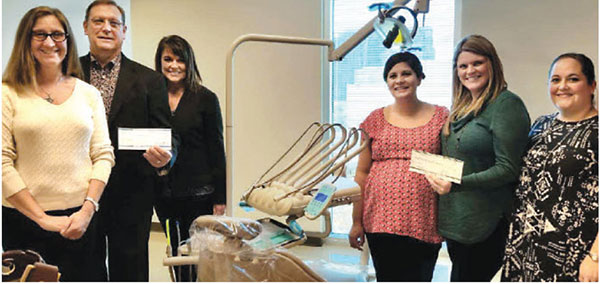 NRG SOCIAL RESPONSIBILITY COMMITTEE
The American Dental Partners, National Resource Group Social Responsibility Committee hosted a fundraiser to benefit Smiles Across America/Oral Health America. Fun and food was had by all. For a great cause, the team enjoyed a friendly game of kickball and pizza afterward. American Dental Partners Foundation generously matched the monies raised by the Social Responsibility Committee. The contribution totaled $1,500.
Smiles Across America/ Oral Health America first established in 2004, addresses the most common preventable health epidemic our children face: tooth decay. Dental caries (tooth decay) is the single most common chronic childhood disease-5 times more common than asthma. Oral Health America supports school-based & school-linked sealant programs nationwide to provide preventive oral health services and education to children who may not have access to regular care.
Many kids in Massachusetts schools are without needed preventive oral care. We were pleased to give back to our local community.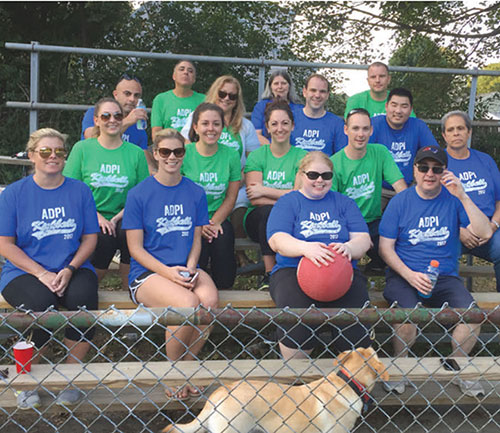 ForwardDental is Forward Thinking with Dental Hygiene Opportunities

There are over 600 quotes on the internet that espouse the virtues of giving. At ForwardDental, we didn't need Google to convince us though. We have found the proof is in the strength of the relationships we have built with the local Dental Hygiene programs.
In collaboration with the American Dental Partners Foundation we established our first endowment with the Milwaukee Area Technical College Dental Hygiene Program in 2016, we thought we were taking our core value of social responsibility off the wall and living it. What started as a way to give back to deserving students, has turned into an endeavor that sees us reaping as many of the rewards of our new relationship as do the students. We have seen all aspects of our dental group practice impacted by this gift. The gift of gift giving has opened doors to professional development, recruitment, growth and more philanthropic efforts.
"Starting these endowments with our local technical colleges has really opened my eyes to what social responsibility really means. I am so grateful that we have built such a strong relationship with the schools. I now can give back to these future hygienists and provide them opportunities I wish I had when I was in school. It has helped to grow my career as well–now I am afforded the privilege of sitting on Advisory boards for the schools. Together we shape their dental hygiene programing. I have truly enjoyed holding classes to talk to the students about their future or how to study for their upcoming boards; and I thoroughly enjoy getting to know the students," states Dental Hygiene Coordinator, Danielle Kober, RDH.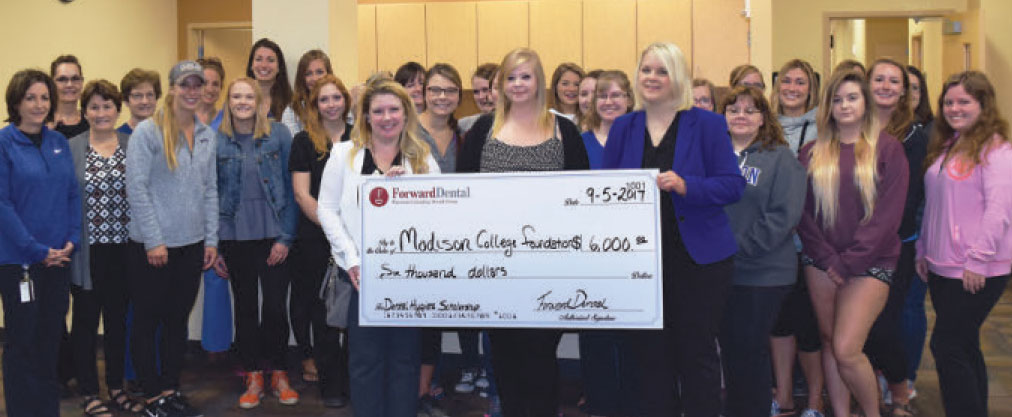 ForwardDental presenting their check to Madison Area Technical College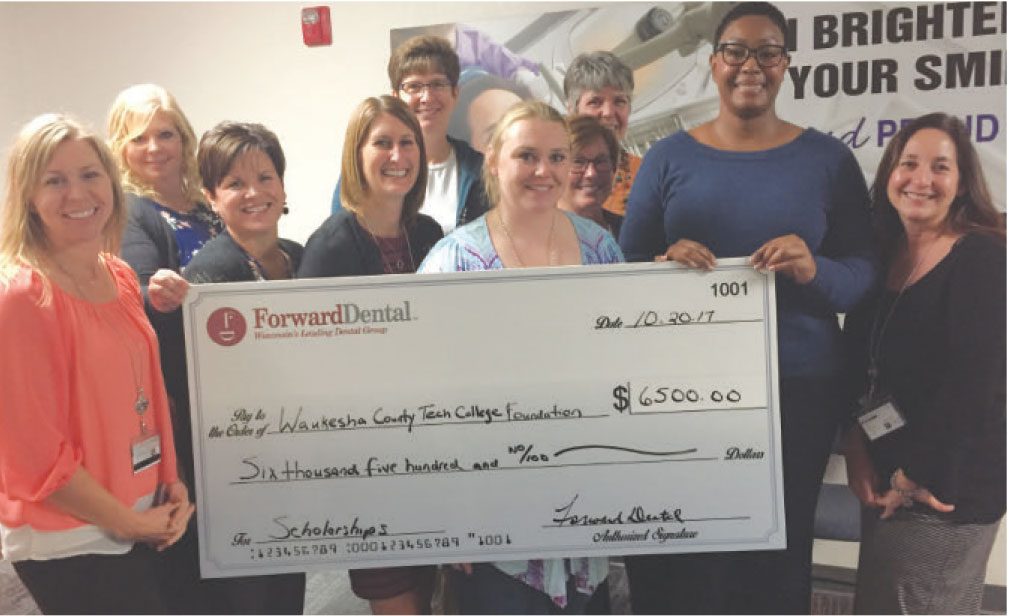 ForwardDental presenting a check to Waukesha County Technical College
In 2017, ForwardDental elected to expand the geographic distribution of Dental Hygiene programs and endowments to represent every part of the State. We have begun to establish ourselves as the "go to group". Students want to learn more about us and some make application or begin as dental assistants with the group well before graduation. The earlier students learn about our clinical protocols, develop technical skills, become comfortable with our electronic health record and meet our team members the more seamless the transition from educational program to clinical practice. Ready with knowledge of our group and applicable clinical skills the new graduates better serve our patients.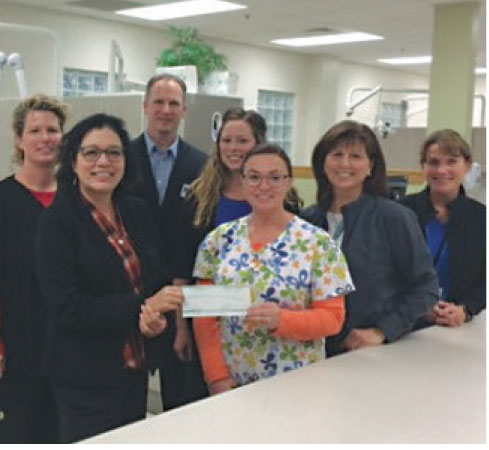 By partnering with the Dental Hygiene Schools we've afforded opportunities for students to earn scholarships and become more engaged in their profession before they graduate.
Dr. Teresa Hitzeman of ForwardDental presenting a check to Northeast Wisconsin Technical College
In the words of Oprah Winfrey,
"To move forward, you have to give back."
We would like to thank our corporate partners and affiliated dental groups for their generous donations in 2017!
Platinum Level Contributors
($25,000 and above)
ForwardDental
Gold Level Contributors
($10,000 – $24,999)
Advanced Dental Specialists
EBS Insurance Brokers
Patterson Dental
Silver Level Contributors
($5,000 – $9,999)
BakerHostetler
Carus Dental
Cognizant
Continental Casualty
Deerwood Orthodontics
Premier Dental Products
Sirona
Western New York Dental Group
Bronze Level Contributors
($1,000 – $4,999)
American Family Dentistry
Chestnut Hills
Christie Dental
Empower Retirement
Lawley Insurance
Metro Dental
Premier Dental Partners
Ultradent
University Dental Associates
Friends of the Foundation
(Up to $999)
Cumberland Dental
National Dentex
Much has been accomplished since the start of American Dental Partners Foundation 19 years ago. Please help us as we carry out our mission to improve oral health care through dental education and community outreach. You can donate online, by mail, or through payroll deduction. Please contact Sarah Romano for more information.
FAQs
Why give to the Foundation?
The Foundation is driven by its mission to exist for the betterment or oral health care as a component of overall health: education, disease prevention, and community patient care. We often take for granted the benefits of oral health in the communities where we reside. Daily, we have access to services that others are not so fortunate to have. Through our contributions, the support of dental education and local services organizations, we can give the gift of good health to kids, families and communites.
What is an endowment?
An Endowment is a donation of monies to a university and/or nonprofit organization for the ongoing support of education or oral health services.
Can we simultaneously fund the endowment and distribute scholarships or do we have to wait until it is fully funded?
Most universities will grant scholarships while the Endowment is being funded. Additional monies may be required to fulfill the scholarships.
Can I specify exactly where I want my contributions to be donated to?
Absolutely. When you make a contribution to the Foundation, you may restrict your monies a dental school, community program, or dental organization of your choosing. We will make the donation to that organization in your name. You will receive credit for the gift.
Can I arrange for my contribution be deducted from my paycheck?
Yes! Please see your manager for a payroll deduction form, or contact Sarah Romano
American Dental Partners Foundation
401 Edgewater Pl., Ste. 430
Wakefield, MA 01880-6225
Tel: 781.213.0205
Email: sromano@amdpi.com
www.adpfoundation.org