Metro Dentalcare has established a general dentistry endowment benefiting third and fourth year D.D.S. students at the University of Minnesota School of Dentistry. During a recent visit to the school, Metro Dentalcare staff toured the dental school, had a demonstration at the new simulation clinic and met with the Dean.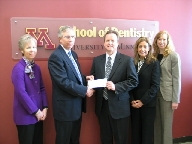 Metro Dentalcare employees donated funds toward the endowment through weekly Jeans Days events where employees at the resource group purchased the opportunity to wear jeans to work. All Jeans Day proceeds went toward the endowment goal.
A new fundraising activity is currently being established where ADPI and Metro Dentalcare team members can participate in corporate food tasting that will generate additional contributions to the endowment.